Linn marks the fiftieth anniversary of the most iconic product in hi-fi history with a limited edition of their timeless turntable, designed in collaboration with the creative collective LoveFrom.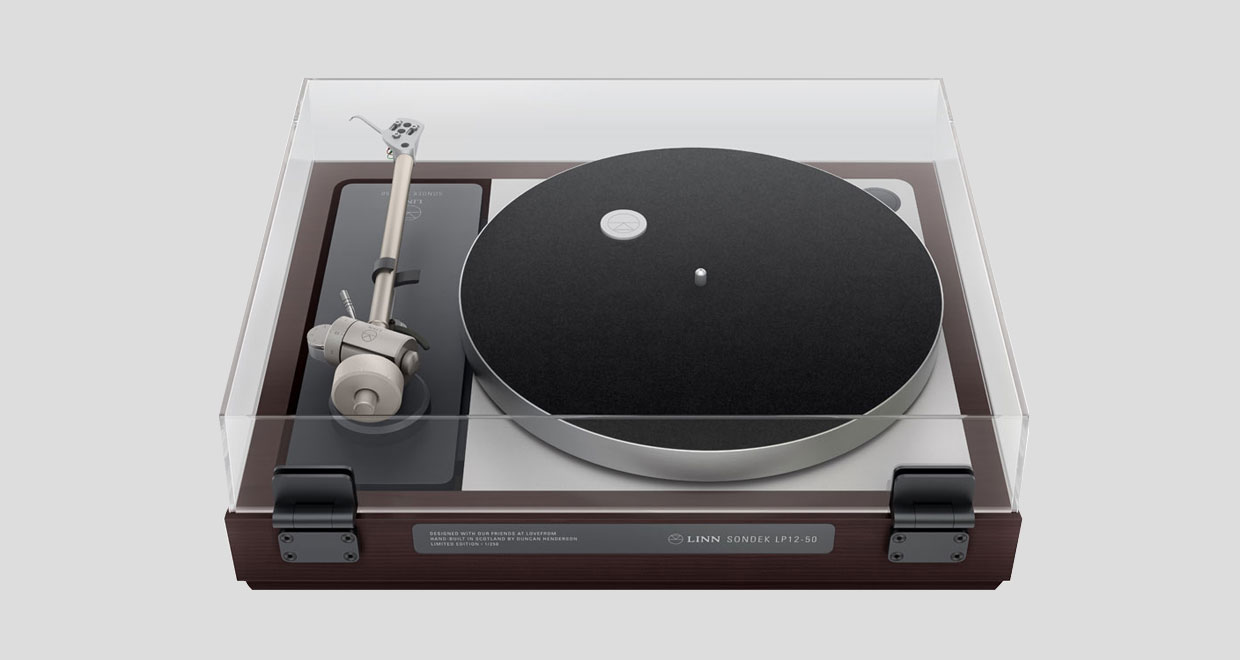 The Sondek LP12-50 produces the very best vinyl playback performance Linn has ever achieved, alongside the immediately recognisable and iconic design language of Sir Jony Ive and his team at LoveFrom, applied in key visual and tactile interfaces.
The sonic improvement comes by way of Linn's all-new Bedrok™ plinth technology; formed of orthogonal layers of beech placed under extreme pressure to create an entirely new, solid and massive material. The consequent ultra-dense wood has negligible resonance and offers a superior isolating housing for the turntable's mechanism.
LoveFrom has applied their design expertise to the new, precision-machined power/speed control button and hinges – providing delightful and precise interaction with the turntable. Further aesthetic refinements to the classic Sondek LP12 form have been made with deep respect for the quality and integrity of the product including the LP12-50's top-plate and armboard.
The combination of performance, usability and aesthetic improvements result in an historic piece with unrivalled sonic quality and beauty.
Only 250 of the limited edition Sondek LP12-50 will ever be produced – with each bearing an embossed aluminium plaque celebrating this landmark collaboration with individual numbering. See below for more details on how to order your Linn Sondek LP12-50.
How To Reserve Your Own Sondek LP12-50
To reserve your Sondek LP12-50, please fill out the form located towards the bottom of the Linn website's Sondek LP12-50 page to start the process.
Following its submission, Linn will then be in touch to both confirm your reservation and to pair you up with your Linn specialist retailer, who will then hand-deliver and install your new turntable once it has shipped from the Linn factory in Scotland.
Sondek LP12-50 will be allocated on a first-come first-serve basis. As Linn expect demand to be very high, so there is limited time to add your name to the exclusive list of people who will own this historic piece.
Your Sondek LP12-50 will be reserved under your name for a duration of seven days, during which you must formally complete your order with your Linn specialist retailer.
Linn & your retailer will remain in touch via email with progress updates on the build status of your turntable. Each and every Sondek LP12-50 will be handmade with the utmost care and pride, and will bear the name of the builder who assembles, tests and packs it at our factory headquarters near Glasgow. Due to this meticulous, artisanal process, a lead time is to be expected following confirmation of your order.
Once built, your limited edition LP12-50 turntable will be shipped to your Linn specialist retailer between August 2023 and March 2024.