Naim Audio Launches Its First Ever Turntable, The Solstice Special Edition - and it is now ON DEMO @ Basically Sound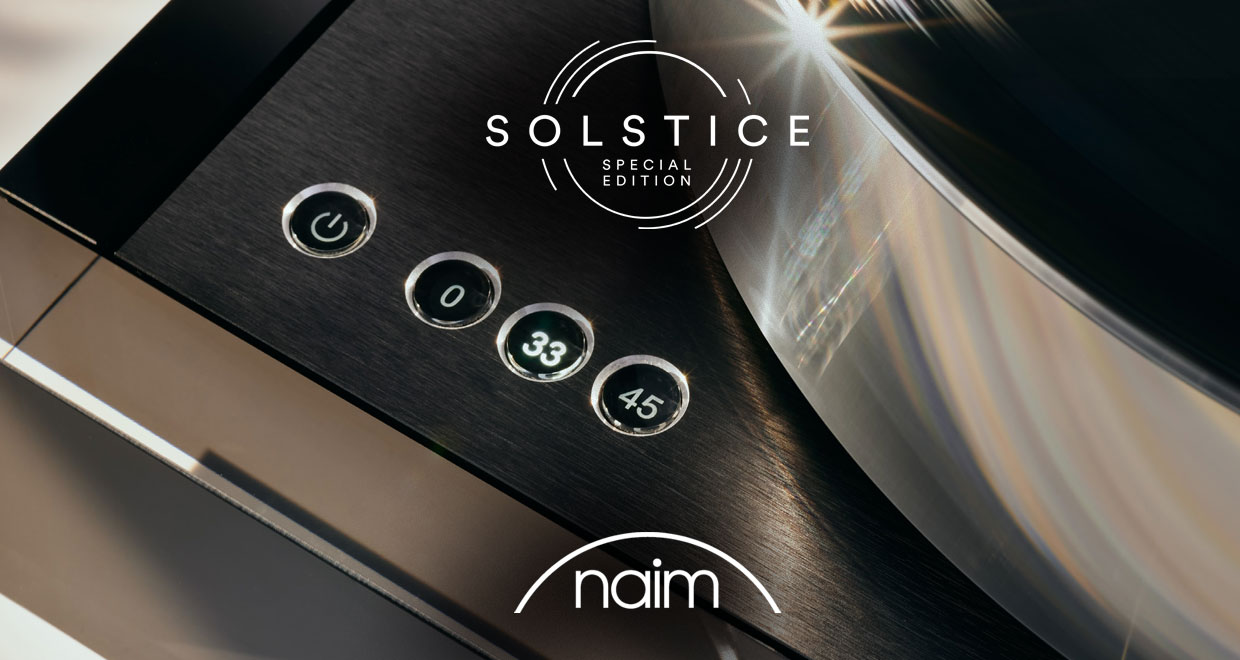 Vinyl-lovers can now finally enjoy the full Naim Audio experience with the launch of Solstice, the first turntable in the brand's almost 50-year history. It comes partnered with a next-generation version of the iconic Naim Aro tonearm, an Equinox MC cartridge, Solstice Series Phono Stage & Power Supply plus a bespoke accessories set. If you love the organic authenticity of vinyl, now you can enjoy it with the musical purity and passion only a Naim system can deliver.
Naim will be creating just 500 units of the Solstice Special Edition package, so this is something very special and likely to be highly sought after.
Details of the Naim Solstice Special Edition package are provided below:
Naim Solstice Turntable – combining core Naim design philosophies, such as multiple levels of mechanical decoupling, with a celebration of beautiful materials. Features a magnetic bearing supporting a high-mass, highly polished aluminium platter, with a unique, self-calibrating motor drive system, meticulously delivering the Naim sound.
Naim Aro Tonearm - retaining the original's design principles and excellence, but boosting performance further still by using improved materials - including tungsten and carbon-fibre - and adding all-new, no-compromise bias, arm height and azimuth adjustments.
Naim Equinox MC Cartridge - featuring a Micro-Line stylus profile - closer to the original cutting lathe head to enable the retrieval of accurate high-frequency information - and a boron cantilever, a stiff-but-light design that faithfully transfers the stylus movements to the cartridge's moving coils.
Naim Solstice Series Phono Stage - the first Naim phono stage to use DR technology. Sophisticated, ultra-low-noise Class A design with dedicated MC and MM inputs.
Naim Solstice Series Power Supply - powers both the turntable and the phono stage. For the ultimate performance, these two different power supply sections are completely isolated, with no risk of interference and also use Naim's DR technology.
Solstice Accessories Set - including Digital Stylus Gauge; Bubble Level; Hex Drivers; Vinyl Adjustment Tool; Dust Protector & Cleaning Cloth
Naim Records True Stereo album - a curated collection of superb-quality True Stereo recordings, newly remastered for vinyl by original engineer, Ken Christianson.
Solstice Special Edition Book - including insights into Naim's heritage, technology and design philospohies.
The Solstice Special Edition combines a contemporary, living-friendly design with the classic Naim look. It offers incredible sound quality without the complications associated with many high performance turntables. Simple to set up and use, it's all about hearing your vinyl collection as you've never heard it before.
The Solstice Series Phono Stage and Power Supply are hand-crafted in Salisbury, while the Solstice turntable, Aro tonearm and Equinox cartridge are exactingly manufactured to Naim's unique design by Clearaudio. Like Naim, Clearaudio has 40+ years of premium audio expertise, including numerous patents for their acclaimed turntable designs. Naim has worked closely on the Solstice Special Edition project with the German specialist for more than two years, continually listening and refining to deliver the unmistakable sound of Naim from a turntable for the very first time. All elements have then been precision-engineered by Clearaudio for consistently excellent performance. 
Expected availability from late July 2021, the Naim Audio Solstice Special Edition is available to pre-order now from selected Naim specialist retailers, with a suggested selling price of £16,000.
We are pleased to be one of those selected Naim specialist retailers, so do please contact us at Basically Sound for more information about this exciting product.
Our demo Solstice SE has now arrived... So, once set-up, we would be pleased to offer you a demonstration at your convenience.